The mightiest emperor of Rome
is a woman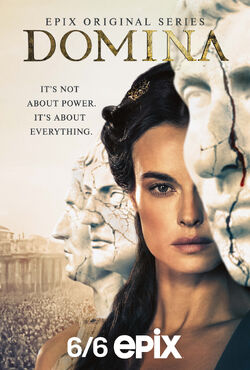 Domina is an epic, sweeping, eight-part drama series that takes place during one of the most provocative periods in Roman history. It explores the heydey of Augustus, its first emperor, and brings to life the exploits, affairs, and battles for political clout that surrounded he and his wife, Livia Drusilla. Together, they were the power couple who sat at the heart of the early Roman Empire.
By taking you behind the walls of a few stately homes, the story shows how the new Empire's key decisions were not necessarily taken in the Senate or on the battlefield, but within the realm of the "Domina", or lady of the house.
Brought to life by writer and creator Simon Burke, with Nicola Wilson, Emily Marcuson and Namsi Khan, the series features filmmaker Claire McCarthy as lead director alongside David Evans and Debs Paterson. Domina's cast is led by Kasia Smutniak, Matthew McNulty, Tom Glynn-Carney, Claire Forlani, Christine Bottomley Colette Dalal Tchantcho, Ben Batt and Liam Cunningham.
Domina premiers on Sunday, June 6, 2021 on EPIX.
About Us
We are a community database on Domina created by fans, for fans. We are dedicated to building a comprehensive and informative resource about all things related to the EPIX series.
We also have a place for getting to know each other and to talk about Domina in our Discussions. Whether you are here to start editing or to chat with fellow users, you are welcome to sign up for an account!
A world of behind-the-scenes talent
Though mainly an Anglo-Italian production, Domina has been created by truly world-class talent. All the more remarkable because of the harsh, COVID-complicated production schedule, the lavish production was brought to life by the talent at the famed Cinecittà Studios in Rome.
Director Claire McCarthy was guided by writer Simon Burke's attention to historical detail and emotional richness. Academy Award-winning costume designer Gabriella Pesucci brought to life her vision of the past, alongside production design by the renowned Luca Tranchino. She has drawn especial attention to the creative relationship with these two department heads, noting that she knew they would give "a restrained colour palette and [a] very particular set of design parameters."
McCarthy has also highlighted composer Sam Sim's score, which she's called "original to the period, yet not beholden or archaic."